To Sanitize Human Skin
Spray the Newgyne® solution to sanitize your hands after touching contaminated common surfaces.
(shopping cart, gas pump, ATM, hand rail and etc.)
Sanitize your feet, soles and insoles of shoes/slippers after arriving home.
Apply as often as necessary to kill the corona virus, Flu virus and all other pathogens.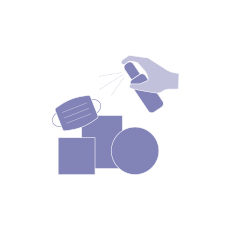 To Disinfect Surfaces
Spray the Newgyne® solution directly onto the surfaces as often as necessary.
Let air dry or wipe dry with paper towel after 2-3 minutes.
On worn mask, disinfect and deodorize both sides. Allow air-dry before reuse.
Examples
mask, shoes, keyboard, mouse, cell phone, door knob, switch, carpet, countertop, cutting board, washer, toilet, bath tub, shower wall, trash bin, clothing, dog house, litterbox, seatbelt, tray table and etc.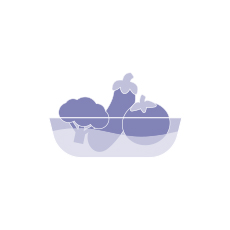 To Disinfect Washable Objects
Below items may contain exceptionally amount of bacteria, fungi, and pesticides.
Mix 1 part of Newgyne® solution with 5 to 10 parts of water.
To disinfect, submerge the items for 5 minutes, remove, and rinse with water.
Examples
toothbrush & razor (once a week), underwear & socks (before laundry), rags & cleaning sponge (once a week), fruits & vegetables and etc.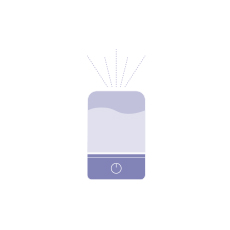 To Disinfect the Indoor Air
To quickly eliminate the odors, pathogens and allergens in the air, you may

Use humidifier (portable or whole house) to distribute Newgyne® solution mist in a large space for 5-10 hours a day.
Spray the Newgyne® solution as often as needed.

If social distancing during the COVID-19 pandemic is hard to maintain in group gatherings, disinfecting the air more often is a great way to protect yourself in addition to wearing mask.
Examples
home, office, classroom, bar, restaurant, elevator, car, bus, boat and etc.
To Deodorize the Indoor Air Continuously
Pour some Newgyne® solution into an unsealed jar/container with clear labeling.
Place out of reach of children.
Replace with fresh Newgyne® solution when it becomes colorless in 2-3 days.
Examples
bathroom, kitchen, refrigerator, overnight parked vehicle, garage, basement, storage, cabinets and etc.
To Cleanse & Deodorize Sink, Strainer and Drain Pipe
Massive biofilm builds up around the strainer and inside the drain pipe.
Pour 2 to 3 tablespoons (15 ml) of the Newgyne® solution into the drain to eliminate the odors, biofilms and embedded pathogens every two weeks.
Sewer backup from sink or toilet contains all kinds of pathogens.
Spray the Newgyne® solution to thoroughly disinfect the contaminated surface.
Examples
kitchen/bathroom sink, shower, bath tub and toilet.
To Relieve Athlete's Foot and Onychomycosis
Mix 1 part of Newgyne® solution with 3 to 4 parts of water.
Soak the fungus infected hand or foot for 30-45 minutes, 2 or 3 times a week.
After soaking, gently remove any loose dead skin/cuticle from the infected area for deeper layer treatment next time.
Improvement may be visible after first treatment.